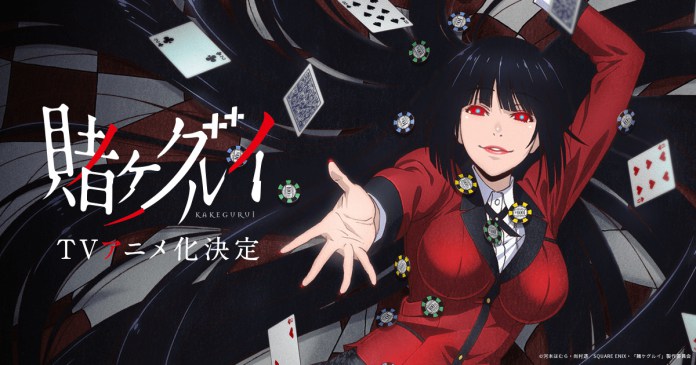 Call me Ryōta.
As I watched Kakegurui, it struck me how similar it felt to Herman Melville's book Moby Dick. Let me summarize each and then we'll jump into how an anime about a compulsive gambler feels similar to a story about a man obsessed with a white whale.
Kakegurui follows Yumeko as she gambles through the Hyakkaou Private Academy. The academy uses gambling to determine the social standing, and ultimately fate, of its students. In typical anime fashion, the student council rules with supreme power over the school. I suspect anime does this because this type of council is far from reality. In any case, Yumeko transfers to the school and proceeds to gamble increasingly high-stakes games just for the thrill of it.
Moby Dick follows Captain Ahab in his effort to kill a mythical white whale that bit his leg off. Various whaling adventures happen on his search, along with discussions about whaling that bores the reader to death.
Kakeugurui and Moby Dick use the same story-telling structure. We don't get to see directly into the minds of Yumeko or Captain Ahab. Instead, an outside character tells us the story. Ryota tells us Yumeko's story. Ishmael tells us about Ahab. Because of this, we don't get to see the inner workers of Yumeko or Ahab. This doesn't stop us from coming to understand them, but the distance allows us to avoid the problems of the unreliable narrator.
The madness of Yumeko and Ahab depends on us not being able to fully understand it. Their level of obsession would become repetitive if we saw the story from their eyes. Ryota and Ishmael provide a filter that blunts this problem, and they provide some tension. Ryota's perspective, in particular, ratchets the tension because he isn't privy to Yumeko's planning. If we watched the story from her view, we wouldn't see tension. Gambling excites her, and she has most situations well planned. Ahab also doesn't feel tension. He cares little for his life, so that pretty much kills the reader's tension if the story was from his viewpoint.
Ryota and Ishmael's filter allows us to understand what's going on. Perhaps too much so. Ishmael spends an inordinate amount of time discussing whaling techniques. Ryota switches between explaining the nuances of a gambling game to having it explained to him. I'm not a gambler or a whaler, so both characters helped me understand the environment a bit better. Of course, both go too far in their explanations and become distracting. Ryota's information overload distracts us from seeing the trick Yumeko does in each of the gambles. His distractions serve a purpose at least.
Yumeko and Ahab share obsessive tendencies. Ahab chases the white whale while Yumeko chases the euphoria risk gives her. Ahab pushes to the point of endangering others. Yumeko does this too, but she still has some concern, albeit little, for those she regards as friends. Some of her antics are kind, at least from her viewpoint. She seeks to share her euphoria with those closest to her. Unlike Ahab and Ishmael, Yumeko and Ryota grow rather close. This allows us to see Yumeko a bit clearer than Ishmael does Ahab. We get to understand what drives her and her more human elements from a closer perspective.
Both stories look at the darker side of the human psyche. Kakeugurui falls into the psychotic and the sexual. For example, Midari, a member of the student council, enjoys playing Russian Roulette and the thrill of gambling drives her to masturbate to climax in the girl's restroom. Yumeko's gambling excitement crosses into the realm of climax in various scenes too. You won't see any characters doing this in Moby-Dick. That story is a more straightforward literary tale with its symbolism of futility (the white whale) and the classic struggle of man (which they are all male characters) against nature.
Yumeko doesn't really struggle against anything in her story. The student council attempts to manipulate her, but she lacks a true goal other than gambling's thrill. Student councils stand in for governments so you have the idea of the individualist vying against conformity. Only Yumeko doesn't really vie as Ahab does against nature. She remains relatively neutral to the council outside of what thrills they provide her. She doesn't want to take the council down as in many weird-school anime. She provides a warning about how pursuing an obsession isn't healthy, but this theme is blunted by the fact she wins even when she loses (the thrill factor). If anything, the story portrays her gambling compulsion as exciting and even an expression of her individualism. Whereas with Ahab, his compulsion kills people.
Kakeugurui doesn't set out to teach a moral lessons as Moby Dick does. It doesn't show compulsion as a negative. In fact, it revels in it. The way it shows gambling's thrill as consuming provides some moral warning. By showing gambling as a positive or a thrill for psychotic characters, you can show how such compulsions are immoral and dangerous. It equates the act with the psychotic state of mind. However, this isn't as clear-cut as Moby Dick's lesson. Linking the thrill of gambling with masturbation and sexual climaxes shows how intense the characters feel when they gamble, but it also muddies literary lessons. It can link those actions with the negative of compulsive gambling or perhaps the other way around, depending on the viewer.
Of course, the author of Kakeugurui may not seek the teach a literary message or make any observations of human nature. Anime, after all, seeks escapism and  to make money. While it's easy to over-think anime, Kakeugurui shares a fairly similar structure to Moby Dick as we've seen. The role of an outside observer allows Ishmael and Ryota filter characters readers may find difficult and even unlikable. Compulsive behavior hurts people, causing issues like hoarding, cutting, gambling, extreme collecting, extreme hand washing, and other life-inhibiting habits. Despite the muddied messages and associations, I found the show interesting. Yumeko and Ahab fascinate with their drives. Both stories are flawed enough that many people will find them unlikable. But they both explore interesting aspects of human psychology that will continue to appear in stories.