Dharma Delight: a Visionary Post Pop Comic Guide to Buddhism and Zen
February 17, 2016
Dharma Delight reveals the key tenets of Buddhism with bright, vibrant illustrations. I received a review copy from Tuttle Publishing. The author's illustrations leap from the page with cute monstrosities and humor. Each drawing contains layer of meaning. Unfortunately, Dharma Delight assumes you know Zen and Buddhist philosophy. Many of the illustrations contain multiple layers of meaning that may make the paintings appear strange if you don't understand the symbolism. The author explains some of this symbolism, but the explanations are clearer if you have a Buddhist frame of reference. The painting style has strong Indian influences.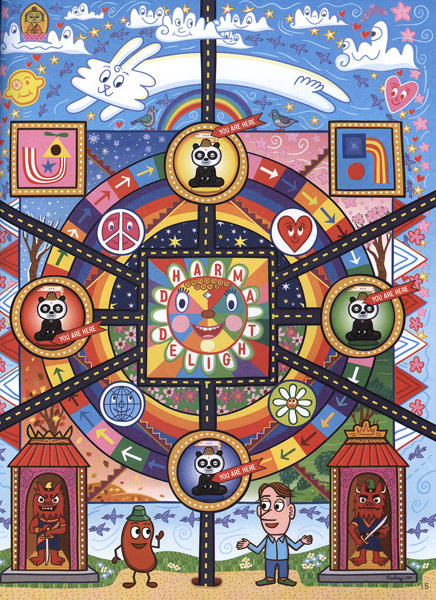 Dharma Delight contains jataka, or moral stories, and a handful of koans. The moral stories are simple and fun. They are modern retellings and original moral stories. The koans are modern versions from Zen masters. A koan is a contradictory riddle that doesn't have an answer. Koans are designed to shock us from everyday thinking. They don't try to teach morals like jataka. The koan section is my favorite part of the book, but I tend to enjoy them in every Zen book I read.  The author also provides an introduction to meditation at the end of the book.
To get the most from Dharma Delight, you need to understand some aspects of Buddhism. If you are a beginner, the information may not make sense to you. Explanations of key Buddhist concepts like the Eight-fold Path and the nature of suffering are sparse. If you've had no exposure to Buddhism, Dharma Delight isn't the best introduction. It is meant to show practitioners and those familiar with Buddhism the whimsical side of the philosophy. Dharma Delight supplements sometimes dry and dense Buddhist philosophy books.
Dharma Delight is a book of visual koans. The  book dances with vibrant colors and playfulness. It is available through Tuttle Publishing and Amazon.