Jiro Dreams of Sushi
August 13, 2012 
Jiro Dreams of Sushi is a documentary about an 85 year old living Japanese treasure, Jiro Ono. Jiro elevates sushi into an art. Yet despite his accomplishments he still strives for perfection. His sushi restaurant, Sukiyabashi Jiro, has a Michelin Guide 3 star rating. The best there is.The restaurant is also the first of its kind to achieve this rating.
Despite this rating, the restaurant only sits 10 and rests quietly in a Tokyo subway station.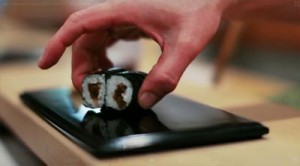 Dreams of Sushi briefly tells Jiro's story of growing up and deciding to become a sushi chef. Once he chose is profession, he grew to love sushi and dedicated his life to mastering the art. He started with nothing, but eventually began to do things with sushi no one else has tried. Yet at the same time, he retains the simplicity of his art.
Jiro admits that he wasn't a good father to his sons when they were young. Both of his sons are following in his legacy. The youngest son, Takashi, own as 2 star location in Roppongi Hills after being encouraged by his father to take the risk.
Jiro Dreams of Sushi is a delicate documentary that examines the persistence and humanity of a living treasure. Jiro is a man who pushes himself to find perfection on a mountain without a summit.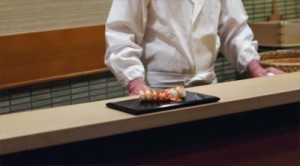 The documentary is completely subtitled. Jiro, friends, and family speak simply about life as a sushi chef and the increasing difficulties of finding high quality ingredients in an over-fished ocean. This problem is one of their chief concerns.  They talk about the hard work needed to achieve mastery and the necessity to love what you do.
The camera work is polished and artistic. It is a work of minimalism. It shows the Master's hands craft sushi of many types. It show all the small aspects of a sushi restaurant in a Zen like way. It isn't idealized. Sushi crafting is hard work and long hours. Fishing markets are explored along with the problems of Jiro working so hard for his entire life. The documentary is very human and has moments of humor. It is heartfelt, and the viewer can feel Jiro's passion for his art. Along with the particular aspect of Japanese culture: fathers and sons working together.
Jiro Dreams of Sushi leaves you feeling inspired to find a craft of your own to master. You can't help but admire Jiro's dedication. Even if you are not a sushi lover (I don't like seafood), the film leaves you wanting for a skillful, careful human touch in more aspects of life.