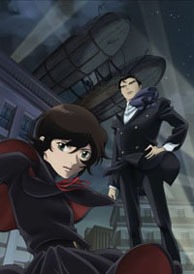 Chizuko is a young heiress living with her aunt and uncle, who are plotting to inherit her fortune. She is rescued by the mysterious phantom thief, 20 Faces, and becomes part of his family of thieves.
Chizuko is an avid mystery book reader; if it wasn't for the skills she picked up from these books her aunt and uncle would have long ago succeeded in poisoning her and stealing her fortune. One day the Phantom Thief appears to steal one of the jewels of her fortune. Seeing no other alternative to escape her aunt and uncle, she convinces the thief to take her on as a student. She quickly earns a place with the Phantom Thief's gang. A gang that feels like it came from the Robin Hood legends. However, even the great Phantom Thief has a past that cannot be escaped.
Heiress of the Phantom Thief is an enjoyable romp through a story like you would see in a Nancy Drew novel. There is some action and plot twists speckled throughout. The mystery is just enough to keep you guessing and wanting more. The soundtrack is unremarkable, and the animation is solid but not up to the quality many anime viewers now expect thanks to studios like Production IG. It is essentially a coming of age story as Chizuko develops the skills and knowledge to live in the gray world of 20 Faces.  The supporting cast is the usual motley assembling of quirky characters. Only Chizuko and 20 Faces receive extensive development. 20 Faces has various ethical challenges to his practices, but comes off as mostly a modern day Robin Hood. Her aunt and uncle are too one dimensionally greedy.
This anime is also known as Daughter of Twenty Faces. Unfortunately both title versions reveals the outcome to the overarching plot. If you enjoy Nancy Drew flavored mysteries you will enjoy this anime.