Eden of the East
August 10, 2011 
What does nudity have to do with terrorism and politics? Quite a bit it seems.  Eden of the East opens with a naked man who calls himself Akira Takizawa in front of the White House just as Saki Morimi gets in trouble with the Secret Service for tossing a coin onto the White House lawn. Akira has no memory of who he is, or what he is doing naked.
The series follows Akira, who has a cell phone loaded with ¥8.2 billion, as he tries to discover who he really is and a game that he is apparently a part of.  The cell phone also connects him to an operator called Juiz, who has almost God-like powers over society.
Eden of the East keeps you guessing; it shares a lot of the same elements as the Bourne Identity. I found the story a bit odd, and convoluted. Juiz has unrealistic power over society.  Saki falls in love with Akira, but that isn't a surprise since he is a "safe" bad boy.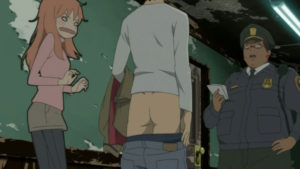 Akira is an interesting character. You don't quite know if he is putting on his amnesia or is genuinely clueless about his past and who he really is. He comes off as a nice guy, but yet some things point to a perhaps more sinister past. Akira has no reservations when it comes to nudity…much to Saki's discomfort.
Saki is a pretty normal college girl. She wants to find the right guy to date and just graduate. She is pretty adventurous despite the innocent quiet exterior.
Production IG handled the animation.  Eden of the East's vehicles look ripped out of Ghost in the Shell. The characters and nicely painted background remind me more of Studio Ghibli than usual Production IG fare.
Eden of the East is interesting. Saki, Akira, and the other characters are believable and appealing. They are older than the usual protagonists (college age); although the designs feel more high school than college.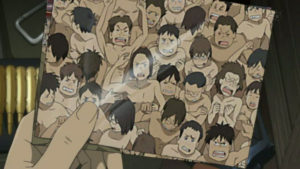 Eden of the East has periods of action that seem to come out of nowhere. Mostly the show is full of suspense and mystery.
I am generally mixed about Eden. On one hand, I found the story interesting and appealing. Other the other hand, some parts of it made little sense and felt too unrealistic for the world Eden develops.  I liked how this anime felt modern and present. The series mentions 9-11 and other present day events. The technology is also believable and familiar.
The name of the series comes from a search engine Saki and her friends developed together.
I recommend Eden of the East if you like suspense thrillers or want something different from the usual anime fare. Despite its flaws, Eden is an interesting story and a solid watch.