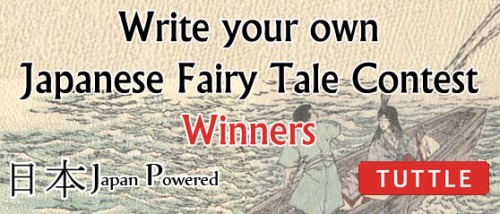 Edward C. Price won Honorable Mention during our Japanese Fairy Tale Contest.
Once upon many years ago, in the far islands of Japan, a princess was born. Daughter of a brute but very wealthy man, she lived a noble life of seclusion. The princess was raised for the next fourteen years within the best possible environment, and was to become the Emperor's new wife. Her father was cruel and without affection. He treated and saw the girl merely as a prized ticket to a higher statement. To avoid damaging her beautiful and delicate body, he would punish her mentally, by locking her away for several tortured days. During those times, she would dedicate herself to poetry and whatever form of literature available, enjoying mostly the works of the renowned female poet Ono no Komachi. Even when not locked away, the lonely princess would not see anyone but her trusted maidens. During rare meetings, there would always be a screen between her and the other party.  Still, the lady held no grudge, and grew to be a kind and loving person.
            Due to her nation-wide famed beauty, there were many marriage proposals, until finally, one came signed by the Emperor himself. There was never a day where the household, specially its master, was so full of joy. A huge banquet was thrown to all the allied families, and the celebration lasted for weeks. But, wherever good news arrive, bad news follow. Just before the beginning of the wedding's preparations, the ruler fell ill and eventually passed away. The princess' father was devastated. Rage, strong enough to create any demon, flew within his veins. He blamed it all on the bride-to-be, and exiled her to a manor in the countryside. There, she would not speak or see anyone, for even the servants would hide in the shadows. Rumors spread, and the proposals became more and more scarce. The girl was forgotten in complete loneliness.
            One night, as the princess wept and gazed at the full moon, a fox jumped from the bushes, and was intrigued by the crying figure. "What seems to bother you, my fair lady?" said the fox. The princess replied "I have lived fourteen years of drowning loneliness bestowed upon me by my status and beauty. And now I am completely alone, left here as if dead and buried." The animal sat next to her, and said "Please do not cry. Tears do not suit your divine image. Let me tell you something: Today is my birthday, and I finally gained a third tail. I shall make you company, as we celebrate in my honor." As he finished his proposal, the creature whistled, and from the same bush where he came from, several astonishing figures paraded bringing food and drink. They celebrated all night long, and for the moment, the young girl forgot all her problems.
            By dawn, the figures left, as if nothing had ever happened. "Please, my dear fox, do not leave me! It would be torture to experience company for a moment and suddenly be left all alone once more!" cried the princess. "Do not worry, child of men, I have my natural needs, so I must leave during the day. But I promise to come back every night to enjoy your delightful company." said the fox, before disappearing in the wild. And so, every night, the fox came back. The two would spend whole nights talking about the most distinguished topics, laughing, arguing, and even crying together. Eventually, love fell over their heads, and on her fifteenth birthday, he asked for her hand.
            "A dream this is, indeed! But as sad as it seems, it cannot be fulfilled. We would never be allowed to be together!" replied the princess. "My actual form is no more than an illusion, for I can become a man, as I can become any creature of my pleasing." explained the fox, in a more aggressive tone. "I am still a princess!" said the girl, "My status haunts me like a black hell hound, and it will never allow me to marry someone without any possessions! Please, I love you more than life itself, so let us stay together the way we are now!". Without any word, the fox got up and simply left, without being seen again. Heartbroken and blaming herself, the princess wept thru out the next days, having constant episodes of severe depression.
            Meanwhile, in the capital, a ship arrived from an overseas country and with it a prince of a far land. His hair was blond, and his eyes of a deep green. All were enchanted by this unique character. He was after a bride, and made a proposal to the forgotten princess' family. The father was not certain. He didn't want to marry his daughter to a foreigner without any rewards, especially those that could increase his social status. The young prince then offered one thousand arms of the finest quality, accompanied by many unique accessories from his homeland. The deal was sealed, and the wedding prepared. When the news arrived on the countryside house, the girl became revolted, and refused to marry someone she did not love. Three swordsmen where needed to forcibly carry her to a carriage, and escort her back to the main household. During the preparations, she wouldn't even bother to look at her future husband.
            On the wedding day, while weeping in her room, the door opened, and her groom stepped in. Without any hesitation, he embraced her as passionately as he could, while she struggle, ordering him to let go. As she fought to set herself free of that forced act of love, he whispered in her ear "Did you really think I would abandon you? How many times have I declared my love?". She immediately recognized that soft voice. How could she not recognize it? It was her precious fox's voice. She looked into the prince's eye and saw the same look she stared at, night after night, during their long talks. "How did you do it?! I knew you could change shapes, but there was a ship! And servants!" she said. "It is all but a mere illusion shaped with the help of my dear friends." he answered. And so, the wedding was performed, and the two married. When boarding the ship, the fox, still under disguise, instructed the princess' father to wait four days until a new ship would come with his so wanted rewards. The newlyweds departed, and their ship vanished on the horizon. The two moved to the southern isles under new names as simple country folk. As for the father, rumor has it that the ship with the gifts did arrive exactly four days later. But, it was filled with nothing but leaves and wood sticks.