Jorogumo–'The Whore Spider'
February 23, 2013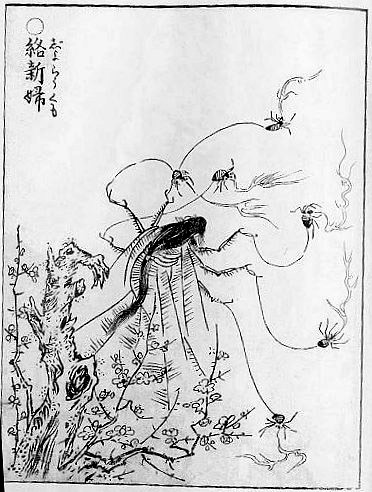 One day a logger was going about his work. Since logging is an exhausting business, seeing as how this was Edo period Japan and the chainsaw hadn't been invented yet, the man decides to take a short break. He hears the crash of a waterfall nearby, and decides that sitting on the stream bank and watching the waterfall would be a pleasant way to spend his lunch break.
However, no sooner has the man settled himself and unpacked his food than a strange something attaches itself to his foot! Puzzled, the man pulls the stick substance off. He sees that it is something like spider silk. He sticks the stuff to a nearby log. A moment later, the log goes zipping across the stream bank, only to disappear beneath the churning waters of the waterfall. Not a little spooked, our logger decides it's best to take his lunch break elsewhere and he beats a hasty retreat back into the woods.
Our nameless logger might not know it, but he's just had an encounter with a Jorogumo, whose name translates to either 'binding bride' or 'whore spider'. Jorogumo are said to come to be when a spider, most often a species of orb-weaver, comes to be 400 years old. On its 400th birthday, the spider gains strange powers and becomes the size of a cow. It can then change its shape to a beautiful woman. It uses this shape and its skill at playing biwa (where it learned to play is a mystery–presumably spiders are all music majors?) to lure victims into its traps, where it then binds their feet and stores them away for later feeding.
The story I told above contains the basics of the typical Jorogumo story. The creatures are often, but not exclusively, associated with waterfalls. Many times they are considered malevolent, but in Kashikobuchi, a Jorogumo is worshiped as a protective spirit who saves people from drowning.
Jorogumo appear in stories from the Edo period. Today, the 'whore spider' makes appearances in stories, video games, and anime. In particular, there's a Jorogumo in the anime/manga xxxHolic, who performs a particularly gruesome act during the course of the series (by the way, anyone seen that anime? I haven't yet).
I haven't found any modern claims of any Jorogumo sightings, which seems to be unusual as far as Japanese spirits goes. Perhaps no spiders have reached their 400th birthday in recent years…
Sources
Atkinson, W (2003). Wrapping the Hole in the Middle of It all: Tanizaki's Narrative Packages. College Literature. 30 [3].
Jorogumo, Wikipedia. http://en.wikipedia.org/wiki/Jor%C5%8Dgumo
Goldstein, J. 101 Amazing Mythical Beasts and Legendary Creatures.
Rosen, B. (2009). Tsuchigumo. The Mythical Creatures Bible: The Definitive Guide to Legendary Beings.